Today I'm joining up with a big group of bloggers for What I Ate Wednesday.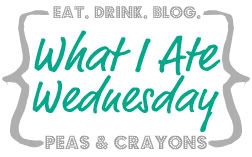 It's my first time participating along!  I haven't captured and shared a full day of eats in quite some time.  I think I should do this more often so I can look back and see how my meals change over time.  My focus lately (as in this last week) has been on making sure to eat more fruits and veggies.  Let's see how I did!
Breakfast: LOTS of coffee + blueberry yogurt pancakes covered in applesauce + a banana
Morning snack while running errands: apple then a chopped up hard boiled egg when I got home
Lunch: leftover enchilada chicken quinoa casserole + sour cream + leftover roasted veggies
Afternoon snack: more coffee + half a chocolate sweet potato muffin + a banana
While making dinner… perk of not being pregnant anymore!
Dinner: cheesy curry chicken and rice casserole + steamed broccoli (I had another half plate of everything after this – I was super hungry!)
Evening snacking: plain yogurt + honey + peanut butter + the other half of the chocolate sweet potato muffin then an unpictured hard boiled egg shortly after
I'm normally starving all morning long and snack a ton more, but since I was out running errands and I didn't bring much along it was lacking.  Happy with my fruit and veggie intake for the day!  It helps when I have leftovers and things ready to grab and eat.
My favorites of the day – roasted veggies, dinner casserole and evening yogurt snack
What was the best thing you ate today?
Heather